Exploring Creation with Zoology 1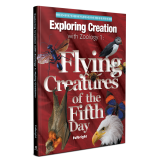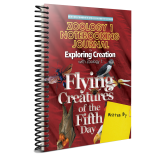 This edition is discontinued by Apologia
.
This Zoology science course uses the Charlotte Mason methodology and numerous hands-on activities for elementary students (K-6) to take flight in learning the basics of flying creatures! Topics covered include: animal classification, binomial nomenclature, behavior, habitat, territory, nesting and hatching, ornithology (birds), chiropterology (bats), entomology (insects), lepidoptera (butterflies and moths), and flying reptiles.
If utilizing the book for 2 sessions per week, the course should be completed throughout the entire school year.
Please note: the Notebooking Journal is meant for Grades 4-6, and the Junior Notebooking Journal is meant for Grades K-3.
Product Information